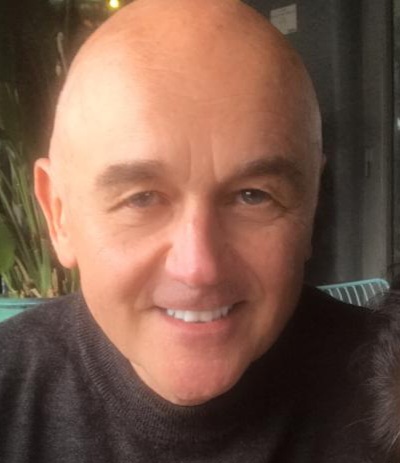 I have a passion for helping overseas families with their Australian real estate needs. I am a trusted, experiencedand well qualified professional who strives to provide you with the best solution.
Clients are impressed with the dedication and expertise I put into making sure they receive top quality service and amazing results.
I help investors and families sell their homes and properties quickly and with less stress, while saving money in marketing costs. I act as a professional "go-between" between the owner and the Agents, to help sellers save a lot of money, and get the maximum price for their beloved home.
Discover why I love real estate, and love helping people.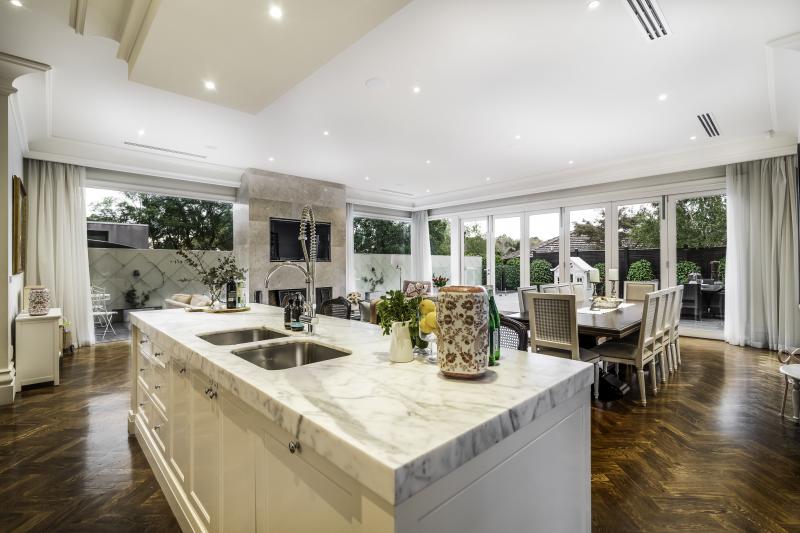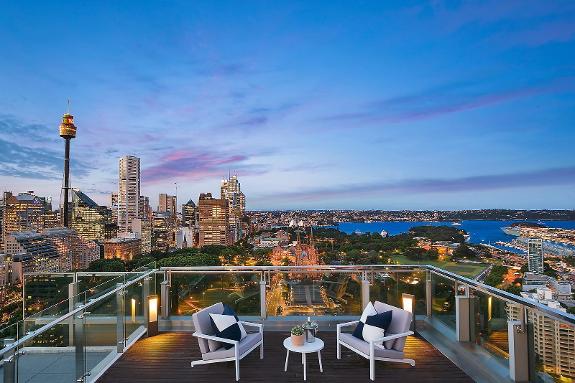 What does a

Vendor Advocate

do?
"If the idea of

outsourcing all of that stress,

work, and hassle to someone very experienced, is appealing,

then it can't hurt to have someone in your corner"
Introducing Your

Trusted Real Estate Partner:

The Vendor's (Seller's) Advocate

In the fast-paced world of Australian real estate, navigating through the complexities of property transactions can be overwhelming. Legalities, inspections, repairs, marketing, and negotiations are just a few of the moving parts that need to align seamlessly to achieve a successful sale. To ensure a smooth process that puts your needs first, meet the Seller's Advocate – more commonly known as the Vendor's Advocate - your reliable and trustworthy partner throughout your property selling journey.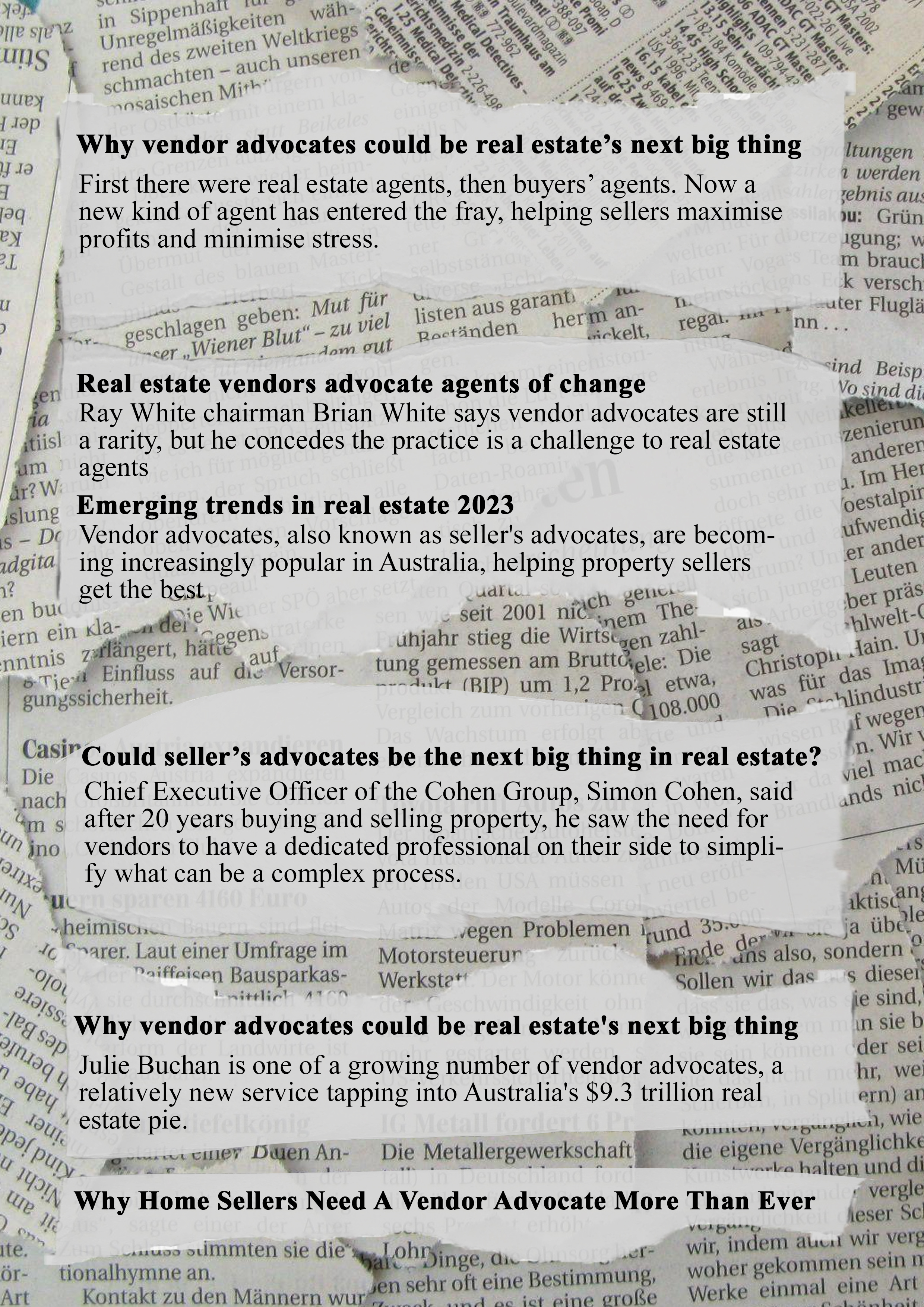 Not a Salesperson:
Your Trusted Partner
As your Seller's Advocate I am not involved in the sale of of your property. I am not acting as a salesperson. I am are committed to acting as your dedicated partner, understanding your unique goals and tailoring my approach to suit your specific needs. I will be able to guide you through every step of the process, providing you with peace of mind and support.
I will also oversee the marketing, appointing estate agents, open houses, the legal contract, building inspections, repairs and upkeep, staging, then negotiating offers as they come in. Finally, I will oversee the whole process to completion and settlement.
Strong Negotiation Skills
for Maximum Gains, And Avoiding Losses
When it comes to negotiating the best deal for your property, my negotiation skills, working in conjunction with your Agent, are honed to secure the highest possible price for your property from the buyer. Trust my experience to navigate the negotiations with finesse, always keeping your best interests at heart, and not leaving any money on the table.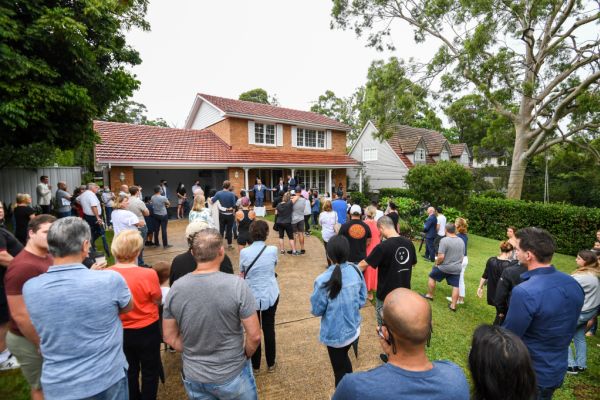 Dependable and Reliable:
Your Stress-Reliever
Selling a property involves an huge array of tasks, and it's easy to feel overwhelmed. There's the real estate agent, responsible for handling the sale of your property. Often there's a highly skilled professional buyer's agent, who represents the person buying the property.
There are lawyers involved to issue and check the contracts, as well as some other smaller but vital cogs of the motor, like building inspectors, staging stylists, marketing and advertising agents, pest inspectors, and more.
But there's also an increasingly prominent piece that more and more sellers are relying on – a Vendor Advocate.

What do they actually do,

and do you even need one

for the sale of your

property?

There's a lot at stake. The number of hoops you have to jump through is high. The potential to mess it all up is quite high, too.

That's where the Vendor's Advocate steps in – a reliable ally to take care of nearly everything for you. From finding the right real estate agent to negotiating commissions and reviewing marketing plans, they handle it all. Their regular updates and recommendations keep you informed and at ease throughout the process.

A Vendor Advocate is a person you enlist to take the angst out of selling your place by essentially taking care of everything for you.

Before you put your property on the market, they'll find out what you're hoping to achieve and then go search for an agent that's right.

They'll usually come back with a shortlist that you meet with to make the final decision.

They negotiate the commission, review the marketing plan and budget and make sure all the boxes are ticked.

Should you go to auction or not? Private Treaty? Expression of Interest? Selling timeline? Marketing strategy? Marketing budget? Which Agent to use? Sign or no sign? Sell with tenants, or without? Stage the property, or not? How much to spend on marketing? How long will it take? How to get my money out? How much tax will I pay? Can I get my tenant out? And much more that needs to be addressed.

Cost-Effective Support

with No Fees

If you think your real estate agent will help you with the above, you may be be sadly disappointed. Agents are incredibly busy.

You might be pleasantly surprised to know that the Vendor's Advocates services are typically free. They work diligently to optimize the selling agent's performance, ultimately benefiting you with a higher sales price.

Instead of charging you separately, they receive a portion of the buying agent's commission, ensuring you get professional support at no extra cost.

This is a WIN WIN WIN for all parties - YOU as the seller get TWO for the price of one, with the Vendor's Advocate your personal ears and eyes, combined with years of experience, to ensure your Agent is not just looking for an easy sale. Your AGENT gets direct communication to you from the Vendor's Advocate, with their experience and knowledge a sounding board for the vendor. In addition the selling Agent knows the Vendor is being looked after. The Vendor's Agent wins also, by being able to represent the Vendor in discussions, using their skills to get the best price for all parties.
The Independent Voice
in Your Real Estate Journey
The Seller's Advocate is not a replacement for your sales agent; instead, they serve as your independent voice in the process. Just like a celebrity's agent working behind the scenes, they ensure you're getting the best deal possible, leaving you to focus on what matters most to you.

Vendor Advocates
vs Real Estate Agents
Most vendor advocates are qualified real estate agents but they're not a replacement for having your own sales agent. They monitor and work with your estate agent.

When to
Consider a Vendor's Advocate?
If the thought of entrusting an experienced professional to handle the complexities of selling your property appeals to you, a Vendor's Advocate is an excellent choice. They offer valuable assistance in getting the highest price for your property and ensure transparency throughout the process.
They take all the complex marketing decisions off your shoulders. They ensure you are not "railroaded" into making a quick decision. And they are skilled in negotiating the best price for you.
When NOT to Appoint
a Vendor's Advocate
A Seller's Advocate may not be necessary if you're a hands-on person who prefers managing every detail yourself. Similarly, if you possess extensive real estate experience or have a strong personal relationship with your current estate agent, you might feel confident handling the process independently.
Avoid Common Mistakes:
Choose Wisely
One of the most common errors sellers make is appointing their rental management agent as their selling agent. While they might excel at property management, they might not possess the expertise needed for effective selling and negotiations. To make an informed decision, interview multiple agents and ensure you're selecting the best fit for your selling needs.
NEVER, EVER MAKE THIS MISTAKE: INTERVIEWING JUST ONE AGENT, THEN SELECTING THEM TO SELL YOUR PROPERTY
Embrace
the Support of Your

Seller's Advocate

In the dynamic real estate landscape, having a reliable and experienced Vendor's Advocate by your side can make all the difference. They bring a wealth of knowledge and expertise to the table, ensuring you achieve the best possible outcome from your property sale.

So, why not empower yourself with a trusted partner who truly cares about your success?
You'll still
have an agent handling

the sale of the property.

The vendor advocate is kind of like your independent voice in the scenario. Imagine you're a celebrity – they're your agent, thrashing out behind the scenes to make sure you're getting the best deal, leaving you to simply smile and look pretty.

QUICK TIP #1: REMEMBER: These days, many buyers employ their own BUYERS AGENTS to represent them and get the possible price (the lowest) for their client the buyer. You need to be sure YOUR estate agent is skilled enough, and keen enough, to get YOU the highest possible price and not just want a quick sale.
QUICK TIP #2: Your estate agent may well fight back against you employing a Vendor's Advocate. Firstly, they do not want someone watching EVERY step they take. Secondly, they may want your marketing money to grow their business. The don't want your Vendor's Agent cutting this back. Third, they don't want to share a small proportion of their commission with the Vendor Agent.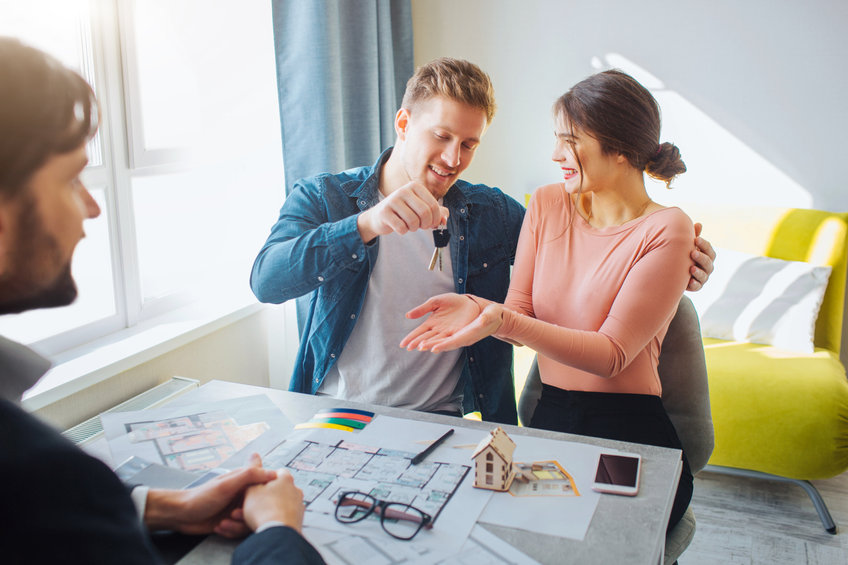 Finally, good Vendor's Agents are very experienced agents and know how the real estate game works. They can greatly help you when the negotiation comes along. But, how to select your Vendor's Agent?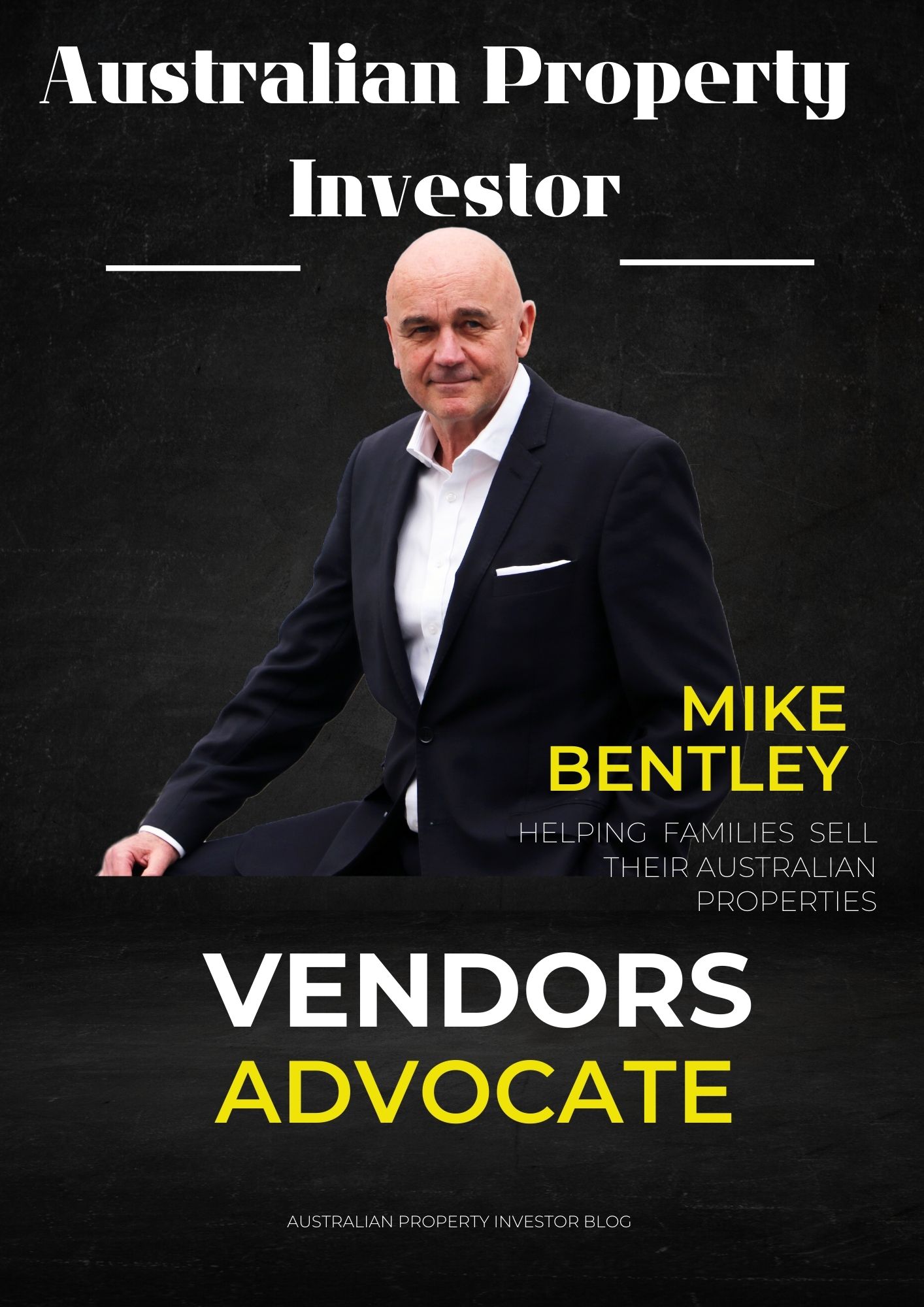 Selecting Your

Australian Property Vendor's Agent:

The Golden Rules:
Most importantly, ensure your Vendor's Agent has at least 10 years specific real estate experience, in either building, developing, selling or buying homes. Any less than that, and it is unlikely they will have enough knowledge to be able to deal with and handle your agent and the Buyers Agent.
Secondly, they should have bought and/or sold at least 3 to 5 properties of THEIR OWN. How else would they REALLY know what sellers are going through?
Don't be afraid to ask them hard questions.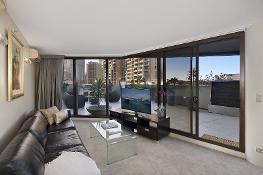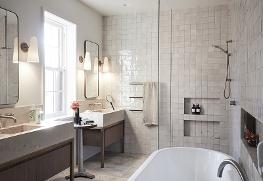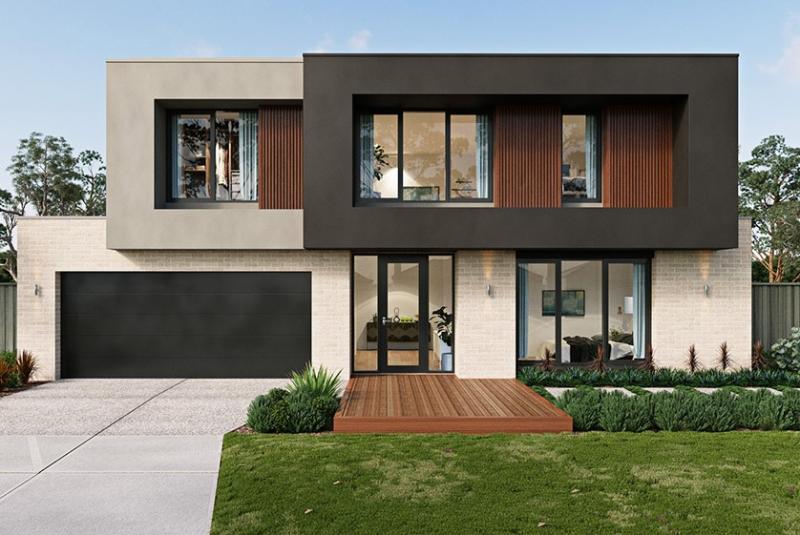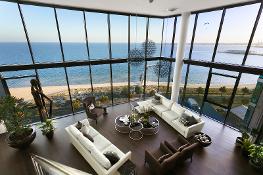 "Michael Bentley took the stress out of selling my two investmentproperties - one in Melbourne, and one in Sydney in early 2023. He was astute in negotiations with the Estate Agent, and demonstrated integrity in so many ways. He explained clearly at each stage of process, and helped us determine a fair marketing budget.
Michael is completely knowledgeable about the Australian real estate scene. He made so many good suggestions.
And especially helped us select the right selling estate agent. He spoke to us often, providing feedback from the agent, and interpreting what the agent said and what it really meant for our properties' selling prospects. We firmly believe he enables us to get tens of thousands more for our properties than we could have trying to do it ourselves.
He always responded quickly to questions. He is friendly, approachable and personable, which makes everything more pleasant. We highly recommend him!"
Date May 2023
Dr. and Mrs Francis Mak, Hong Kong
"Michael, you are without doubt the best Australian property agent I have come across, and certainly the most honest agent I have ever dealt with"
Sergio Anelcotto

GET AN AWARD WINNING PROFESSIONA

L

ON YOUR SIDE

WHEN SELLING YOUR AUSSIE PROPERTIES