With Build to Rent the fastest-growing trend in the real estate market today, this report aims to find out more about this burgeoning phenomenon.

It's hard to argue much with the assertion that Build to Rent is the biggest trend in the private rented sector right now in the UK and is rapidly gaining momentum in Australia.

In the United Kingdom, the build-to-rent sector has grown steadily over the past decade from a largely standing start and is now the second largest form of tenure in the UK

Trends that have emerged in London, where the costs of home ownership are high and work and leisure opportunities are largely centralised in inner-city areas, may gain momentum in the Melbourne and Sydney housing markets.
Build to Rent is not as well-known as Build to Sell.
If you do not deal with the day-to-day matters of running a proeprty or real estate business, most people are unfamiliar with the terms BUILD TO RENT.
They may have heard of C0-LIVING but Build to Rent inases, GST implications and who is responsible for the outgoings (expenses) of the building.
The continuing low interest rates, low bank deposit rates, and dropping yields across all asset classes has highlighted benefits in
diversifying investments.
Most investors
feel comfortable with investing in residential property as they are familiar with it - whether it is a house or apartment.
However, new and increased taxes and charges,
increased government regulation, and lending restrictions have meant many investors have started to look into other types of property investments in Australia.
Wealthy property investors remain focused on yield in a pervasively low interest rate environment.
As a result, assets such as commercial property AND Build to Rent are attracting their attention.
Faced with the prospect of more moderate returns from their INVESTMENTS going forward, many investors are considering joint ventures, syndication, Build to Rent and commercial property investments as an alternative.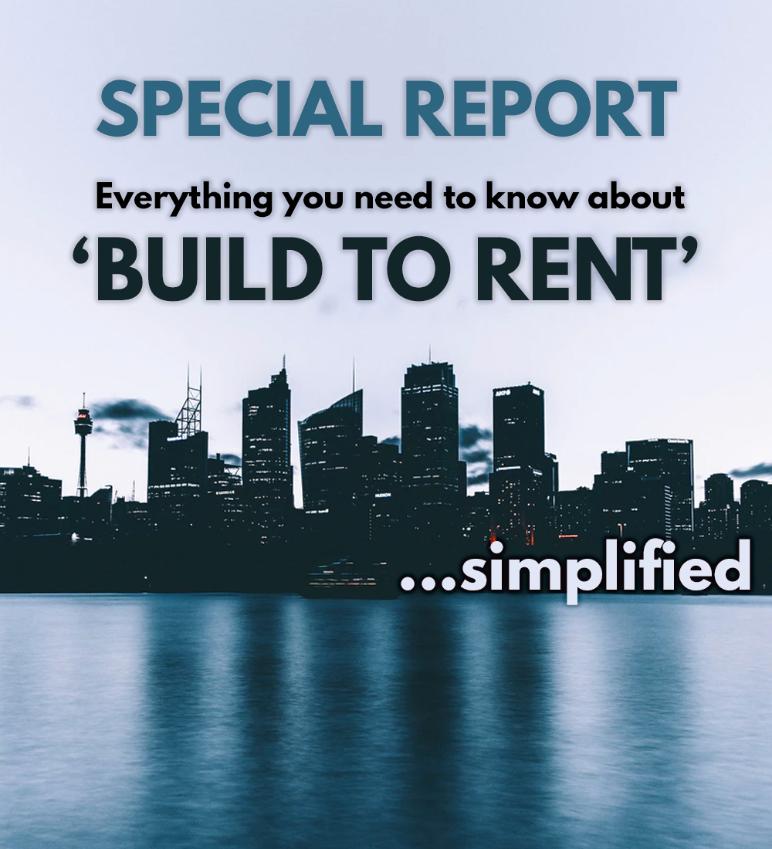 The purpose of this report
is to provide readers with a brief insight to the world of BUILD TO RENT property investment.
BTR housing is "purpose built, institutionally owned and professionally managed private rental accommodation."
It is distinct from traditional private rental accommodation in that BTR usually involves one landlord of the entire development who retains long term ownership and rents out all the units long term.
This report aims to find out more about this burgeoning phenomenon and whether it will provide investment opportunities for investors, and whether it is sustainable.
"A Guide to Build to Rent Property"