WHICH WAY WILL THE AUSSIE DOLLAR GO?
THE SIMPLEST, EASIEST AND MAYBE EVEN THE MOST ACCURATE WAY TO SEE!
A MESSAGE FROM MICHAEL BENTLEY
The purpose of this message is to show you what I have done succesfully over the past 25 years to try to work out which way the aussie is likley to go, whether it is the right time to swop currencies, or to hold, or buy or sell Aussie dollars.
There is no science to this.
But I gave up reading the analysts reports on currencies years ago. Too confusing, and they seldom get it right.
FIRST, and this is important to understand when thinking about currencies.
If you Google "AUD Historical chart" quite often you only get to see short term movements. Like the last 6 months.
I just did this and this is what came up FIRST on Google: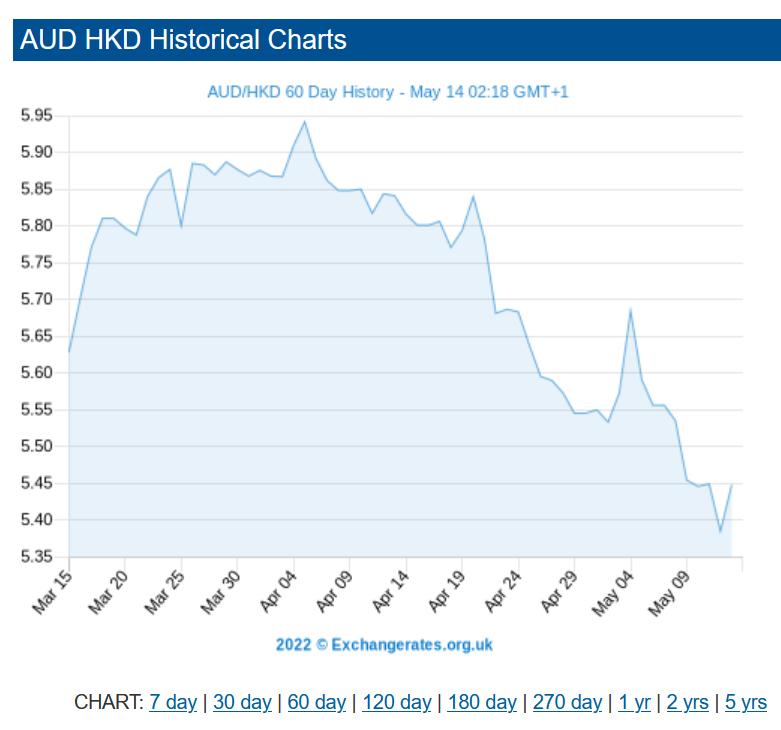 This can be very misleading.
Looking at this, you can be forgiven for ASSUMING thE dollar against the USD or the HKD is VERY LOW, and it's time to buy. Right?
Well, maybe.
BUT, what I have always done is simply this.
Get a LONGER TERM CHART
You can get a chart from Yahoo finance that at least shows 15 years.
Get a long term chart that ideally (in my view) covers the past 20 to 25 years.
See the screen shot of the one I use below, taken on 13 May 2022 to illustrate the point, WHICH SHOWS A RATHER DIFFERENT PICTURE FROM THE FIRST ONE: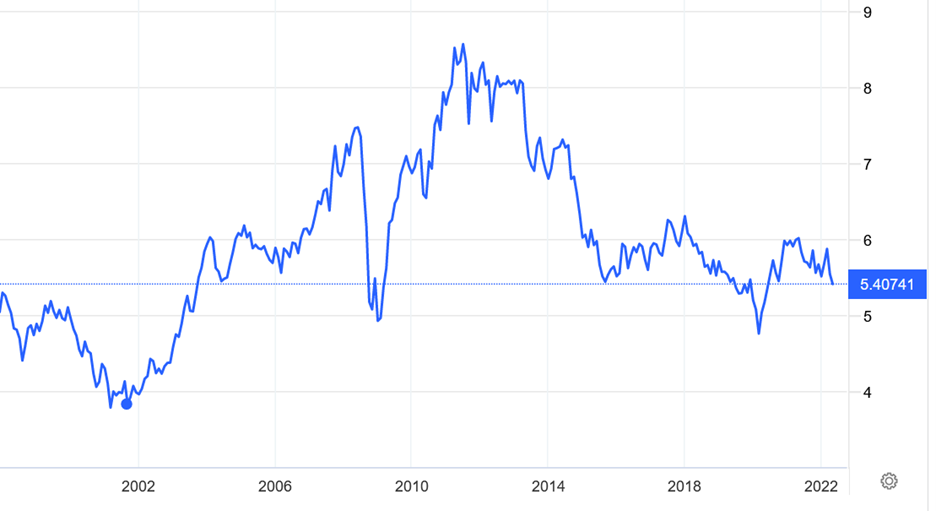 (The big drop in 2008 was the GFC, with as can be seen, a very fast rebound)
So, then looking at the above, TO ME, I can see the aussie seems to be at "fair value" based on the past 7 years, but could have more UPSIDE potential than DOWNSIDE, based on the LONG TERM TREND of 15 years.
That's it.
Thats all I have done and it has worked for the past 25 years.
This is where I get my LONG TERM charts from, WHERE YOU CAN GET UP TO 50 YEARS.
On mobile for some reason it seems to only allow 25 years max, but on desktop seems to be ok for 50 years:
DISCLAIMER: This page www.citylifeprojects.net/dollar has been prepared for informational purposes only and does not constitute currency or financial advice, offer, or a solicitation of an offer, to buy or sell any currency.
In preparing this information, Citylife International Realty Limited and Michael Bentley ("The Company") has relied upon information that is publicly available.
This page does not take account of a recipient's objectives, financial circumstances or needs. All currency buying or selling involve risk that can lead to a loss of part of or all of your capital. The Company does not provide financial advice and is not a financial adviser. The Company does not give or purport to give any currency or financial advice.