How to Build a Property Portfolio, and Retire. One Deposit. $100K Income. Tax Free, Every Year, for Life.
The Unique Strateg
y and Exact Steps Explained How to Do This.
"N

o guarantees or gimmicks but overflows with the wisdom at the core of all good real estate portfolio investment" (Full book review below)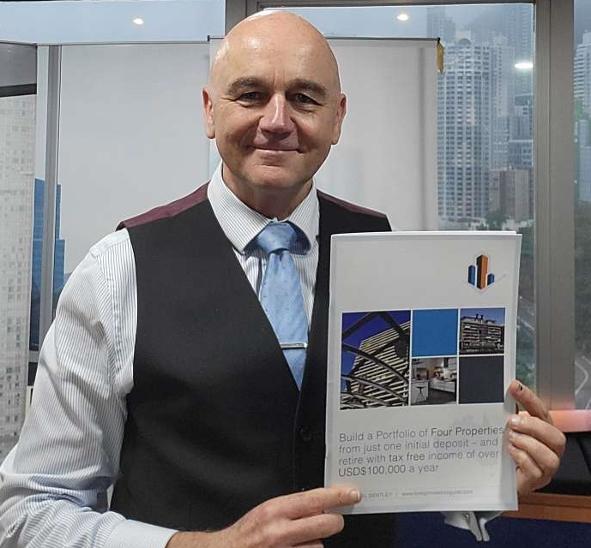 DISCUSS ANY ASPECT OF THE PROPERTY MARKET WITH ME. BOOK A 30 MINUTE CALL AT A MUTUALLY CONVENIENT TIME FOR BOTH OF US HERE
IF YOU DO NOT NEED HELP WITH BUYING, BUT DO NEED EXPERT ASSISTANCE WITH YOUR EXISITNG PORTFOLIO, PURCHASE, TAX, FINANCE, STRUCTURING, RESEARCH, RENTALS, OR PROPERTY SELECTION, CONSIDER USING MY EXCLUSIVE ADVISORY SERVICE.
A personal note from Mike Bentley:
"You may download your free copy of my book below. I hope you find it useful, and I am available to assist you secure your first (or fourth) property at anytime through my exclusive buying service!
To assist you further, I have included below a link to grab a copy of my updated "Is NOW the time to buy? " special report for immediate download at the bottom of this page.

Just click HERE or on the link below to grab a copy of this very useful report too!
And if you need help buying, my personal buying service Australian Property Buyers Agency (APA) can help"
To Build Your Property Portfolio
YOU DON'T NEED:
"CASH FLOW - POSITIVE" PROPERTY,
YOU DON'T NEED:
"BARGAINS"
IT CAN BE :
HOUSES or
TOWNHOUSES, FLATS OR APARTMENTS.
THEY CAN BE CHEAP, OR
LUXURY. NEW, OR OLD.
BUT YOU DO NEED THE EXACT STRATEGY, AND A FIRST DEPOSIT TO GET STARTED.
BUTIT IS NOT "NO CASH DOWN".
By adopting a unique strategy you can achieve USD$100K (or more) PER YEAR tax free income for life, with never having to outlay any further cash except from your first deposit.
This is NOT a "get rich quick" scheme.
The concepts are explained simply and clearly to show how the strategy works, so readers can best adopt it for their own needs.
"I was very reassured that your strategy was virtually identical to that which I used to acquire my 16 properties"
"The book shows how to achieve financial independence through property, how investment in property is a compelling proposition, and how easy it is"
"I just have one word, EXCELLENT"

"Michael has such a wealth of knowledge and wisdom concerning property investment that one can never learn enough from him"
"
"In reality I have accumulated my five Australian residential properties and can retire as per your Ultimate Property Strategy (UPS)"
"Wow, I'm now on my 3rd property. All have been outstanding performers. I really believe in your methods"
Review
"Among the library of investment books promising no-fail strategies for riches, Michael Bentley's "Build a Portfolio of Four Properties from just one initial deposit", offers no guarantees or gimmicks but overflows with the wisdom at the core of all good real estate portfolio investment.
The hallmark of Bentley's philosophy is not short term buy to sell, but buy and hold, through conservative and safe long term investment.
The book is aimed at property investors, not property speculators.
He provides, "in a form suitable for everyone, the step by step system to getting four properties from one deposit, then embarking on the what he calls the 'Ultimate Property Strategy'".
This strategy is for long term income and requires a commitment of effort and a reasonable initial deposit to get started. Bentley coaches the investor to develop a rational plan for buying reasonably priced Australian real estate, and shows the investor exactly how to use each property to purchase the next."
YOUR FREE DOWNLOAD: "Build a Portfolio From One Deposit" PDF OR FLIP BOOK VERSIONS: