Michael Bentley: Hong Kong Trade Development Council article:

A business hub with the 'wow' factor ( 20/10/2003 )
Hong Kong is "simply the best place to make money", he says, and also an easy place to start a business.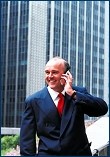 "I believe Hong Kong offers fantastic advantages for someone setting up a business, firstly because of the people," Mr Bentley said. "They work hard, respect those who also work hard, are resilient, don't waste your time or theirs and are fast decision makers. Customers stick with you if you provide service - and they want to make money."People operate at very fast pace here, meaning you can do more in a month in Hong Kong than anywhere else in my view. I also find the people honest, and of course Hong Kong has a very low tax rate - almost a perfect business environment.
Michael Bentley, managing director of Citylife Property Group, makes the most of Hong Kong's "fantastic advantages"
"You can set up any business here, and be up and running fast. People don't care which school you went to, whether you are connected, whether or not you know the right people - just do you have a good product, that people want, and at a fair price? It's so exciting, because whilst of course it takes hard work, the opportunity still exists in Hong Kong to make a fortune in a relatively shorter period than anywhere else, and with low taxes, keep what you make."

Executive networking
The large concentration of multinational companies in Hong Kong also factored into Mr Bentley's decision. Citylife markets property around Australia, which may be purchased by Australian citizens and non-citizens alike, and he saw the potential for a core group of clients.
"Because Hong Kong is an international hub, it attracts a lot of high net worth, big spending international executives. They in turn operate in certain circles, which can lead to lots of referral business. They also attract high quality local staff, who then learn to be more 'international'.
"Business people here tend to trust you much more easily - something I have yet to see in China. Obviously, and particularly in my business, trust is everything. It means you can operate at a much faster and more efficient level, and get more business done. In any society where there is no trust, either personally or in business, everything takes so much longer to get done. That in turn affects the bottom line."
Citylife recently opened a branch office in Singapore and will use its Hong Kong headquarters as a base for further expansion.
Attractive to visitors
"It is easy to travel in and out of Hong Kong, and I love living here, so for me it's perfect to have my head office here," Mr Bentley said. "In addition, for attracting overseas customers and interest, Hong Kong still has that elusive 'wow' factor.
"The Hong Kong lifestyle, and the fact that it is a great place to bring up children, is a huge plus compared to any other city in the region. And to me, it is one of the biggest single reasons why Shanghai can not catch us anytime soon. Many leading executives of large or multinational corporations have school age children, and it's a fact that they prefer to live in Hong Kong. There is so much more to do and to enjoy with children here. It's so easy to get around, and most of all it is safe.
"Other places might be pleasant enough to live in, but they don't have anywhere near the same excitement that Hong Kong offers."
Back to ABOUT MICHAEL BENTLEY