MELBOURNE'S BEST VALUE.
JUST 10% DEPOSIT SECURES
NO OTHER PAYMENTS REQUIRED UNTIL COMPLETION IN 2022
Located in the hive of Preston South, just 20 minutes from Melbourne's CBD; stunning views and the best in rooftop living.
Amenities include:
Rooftop pool, outdoor gym, entertainment booths & BBQs.
Save 50% on stamp duty*until 30 June, 2021

With the Victorian Government's recent announcement on stamp duty savings of 50% only on off-the-plan and new apartments valued up to $1M, now is a great time for investors to take advantage of this initiative and grow their portfolio.
PRICE GUIDE**
1 beds from $343K
Investors pay less than $8K stamp duty
2 beds from $584K
Investors pay less than $16K stamp duty
3 beds from $984K
Investors pay less than $27K stamp duty
SELLING FAST
Offering the right price point, a great location, featured designs providing great value.
Contact me today for more information on floorplans and pricing.
"I can attest to Michael Bentley's extensive real estate knowledge and personal integrity having purchased a number of properties from him over the years in both Sydney and Melbourne - all of which were successful, profitable investments. I have also known other Asian based friends who have purchased property in Australia sight unseen from Michael - all without any problems"
"I have purchased in the cities of Perth, Melbourne & Brisbane from house to apartments, based on the recommendations of Michael. I have found the properties to be well researched and in fact have always asked Michael that I be first on developments that pass Citylife's due diligence in my price range, to obtain best price. All my properties have been hassle free"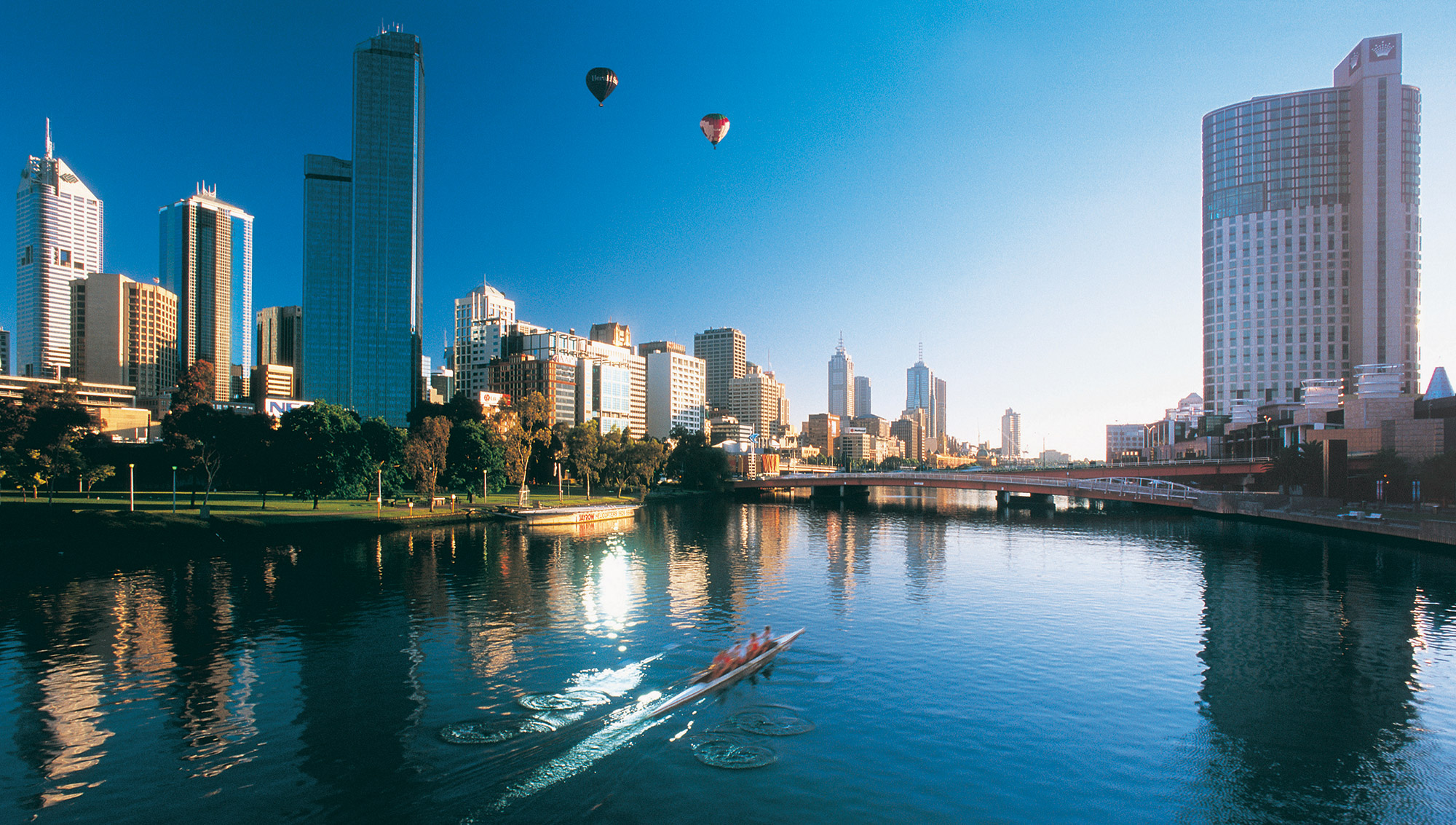 Due North:
From A$343,000- $1,040,000
Located in the hive of Preston, Due North offers you the best in rooftop living on 70 High St. Live large in architecturally designed and fur-friendly apartments, while enjoying a connected lifestyle that's only 20 minutes away from Melbourne's CBD.
Head up to the rooftop and soak in stunning Melbourne views from the pool, outdoor gym and entertainment booths with barbecues
Properties: 107 Apartments
Internal Size: 50 - 124m2
External Size: 8 - 49m2
Est Start: Q1 2021
Est Completion: Q3 2022
Deposit: 10%
Finance: 70-75%
Rental return: 5%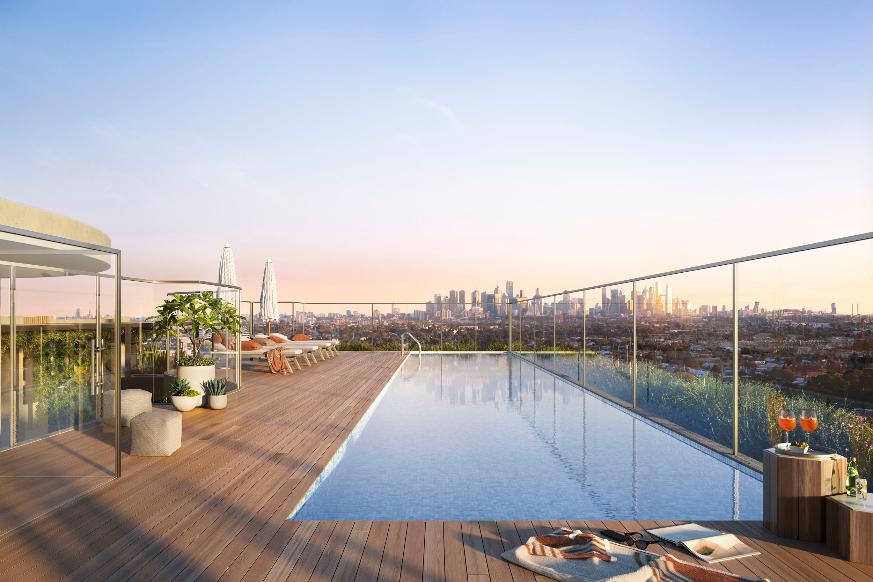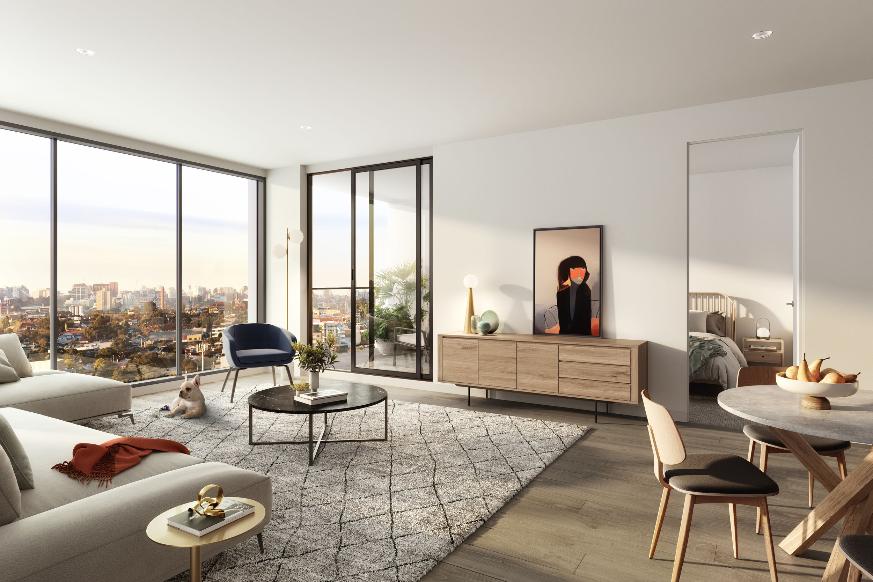 Location
Preston South is a cultural, foodie and retail hotspot beloved by Melburnians and Northsiders alike. A diverse choice of restaurants, bars, breweries, fashion stores and barbers can be found on High St, all within 20 minutes of Melbourne's CBD.
Apartments
Due North features architecturally designed apartments with premium fixtures and finishes – topped with the best in rooftop living. With easy-care timber floorboards, stone surfaces, a variety of balconies to choose from and plenty of space to play indoors, these apartments are suitable for pets. Unlock your future in a 1, 2 & 3 bedroom apartment.
Enjoy the freedom of spacious living in apartments featuring floor-to-ceiling windows, timber floors, premium fittings and bespoke interiors. With easy-care timber floorboards, stone surfaces, a variety of balconies to choose from and plenty of space to play indoors, Due North's architecturally designed apartments are ideal for pets. Make it truly yours, with your choice of light or dark colour schemes and optional upgrades.
The Building
Climbing 12 levels with 107 apartments, a rooftop space, a coworking area in the lobby and 3 retail spaces; Due North is a unique addition to High St, Preston.

Thoughtfully designed, each level consists of a maximum of 12 apartments.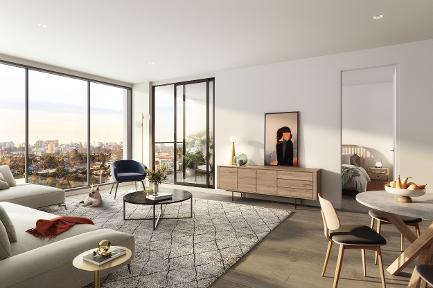 Shared Spaces
Live large on the shared rooftop with a splash in the pool, a workout at the outdoor gym or a catch up in the entertainment booths with access to nearby BBQs. The rooftop is yours to enjoy, when you make the move to any of Due North's apartments.
Rooftop Pool
Splash the day away in the pool and dip into stunning Melbourne views as you kick back on the deck and soak in those holiday vibes.

It's your personal oasis to escape the pressures of everyday life, making it ideal for laid-back afternoons with a book or a refreshing lunch break when you're working from home.
Outdoor Gym
Pump out your weekly angst at the rooftop outdoor gym. Complete with weights and aerobics equipment, there's also a yoga space to help you stretch into those city skyline views.

When you're done sweating it out, sip into the sunset with a cocktail or head to the seating area to check up on those pressing work emails.
Entertainment Booths & BBQs
Make sunsets sizzle in the entertainment booths with BBQs. This clever area not only lets you wine and dine in private, but also serves as the perfect excuse to show off your culinary skills.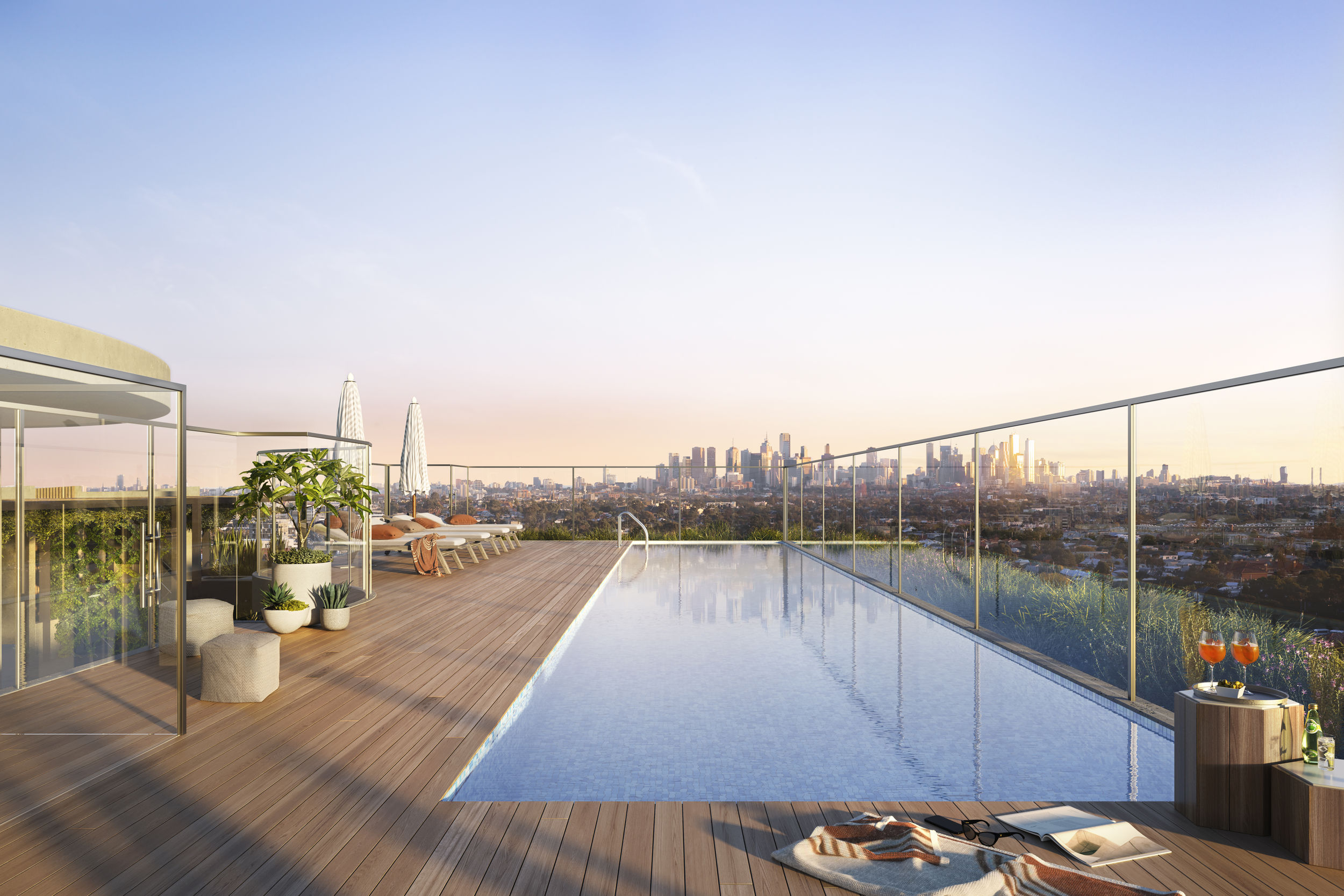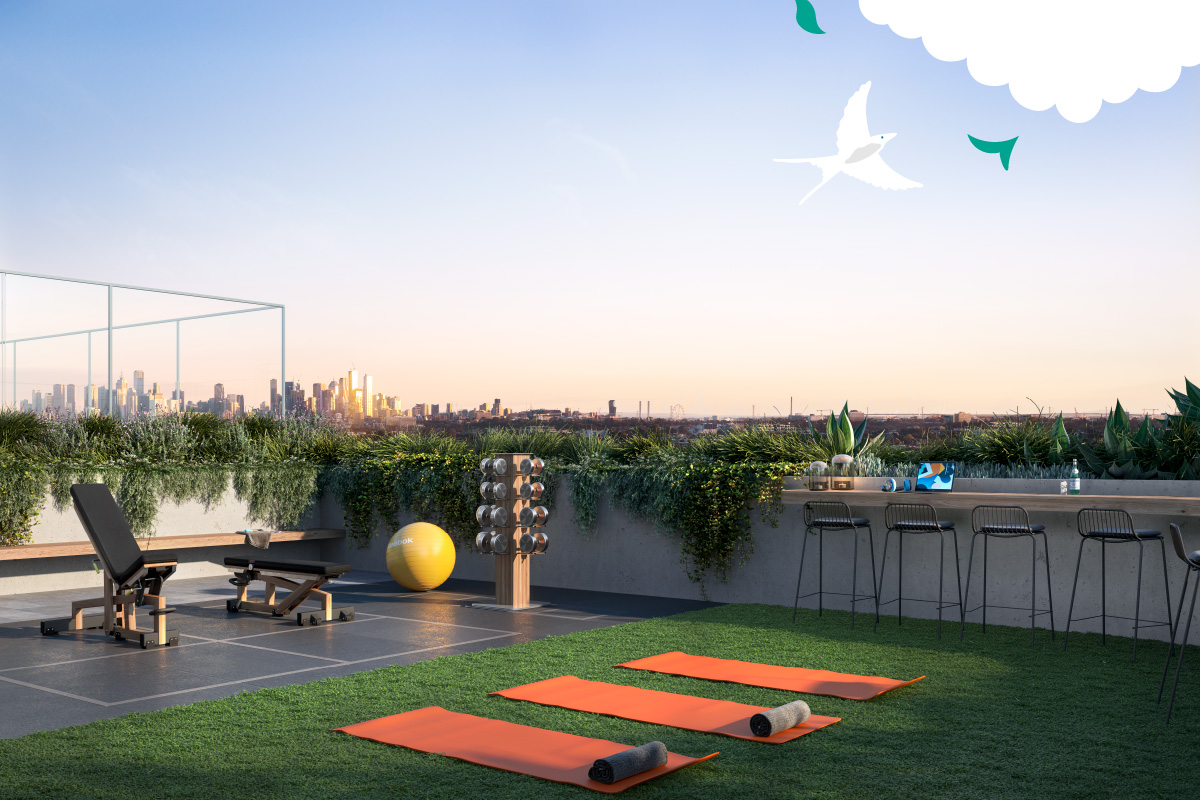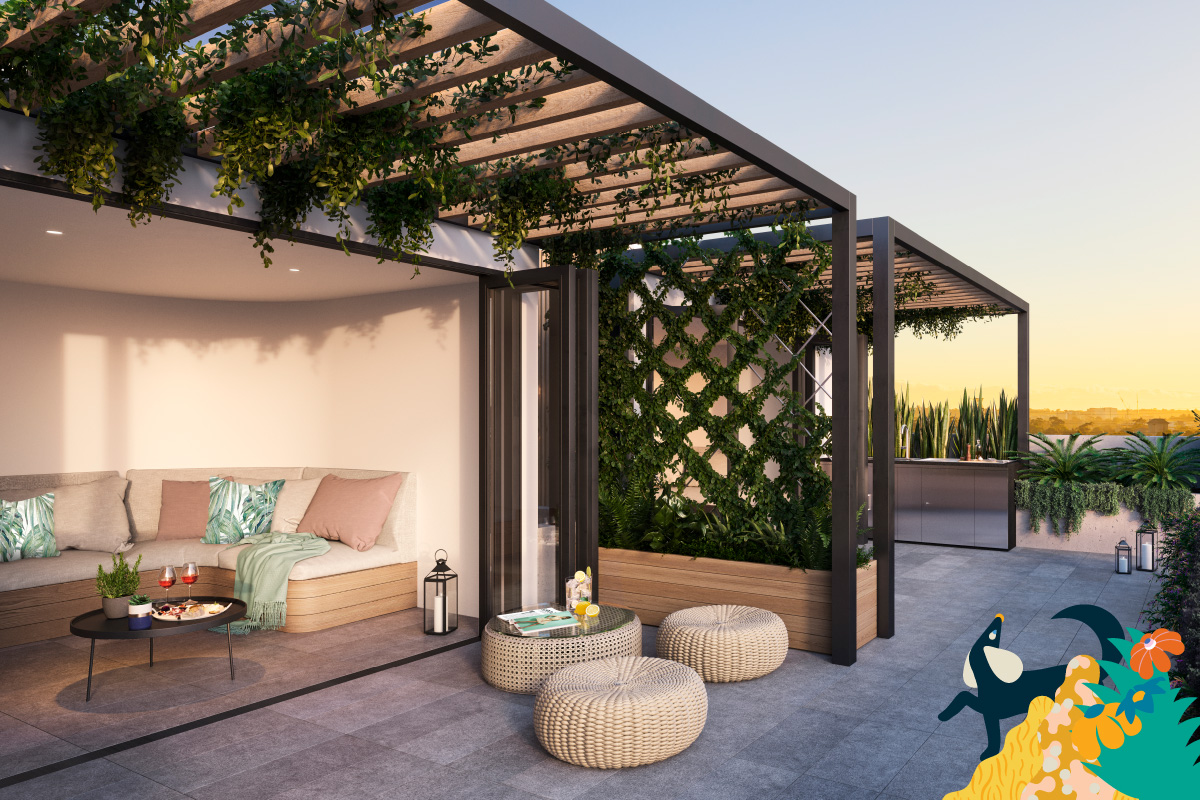 Contact us to receive more information about:
Pricing - Fixtures & Finishes - Home Automation& Upgrades - Floorplans - Getting a loan - Tax - Stamp Duty - Legal Fees - Renting
*Save 50% on stamp duty with the Victorian Government's stamp duty discount.
Whether you're an investor or owner occupier, you can now reap the benefits of stamp duty savings on apartments valued up to $1M.
The Government will waive a percentage of stamp duty for residential properties valued up to $1 million as follows: 50 per cent waiver on purchases of newly built or off-the-plan residential properties; and 25 per cent waiver on existing residential properties.
The waiver applies to contracts entered into on or after 25 November 2020 and up to 30 June 2021.
Stamp duty discount is offered by the Victorian State Government. A purchaser or potential purchaser should seek independent legal advice and make their own enquiries in relation to this offer and before entering into a contract of sale.
** Price correct as of 1/3/2021 before construction price increase.